FOR ORGANIZATIONS
The only real meaningful innovation is the innovation of culture. As long as people don't show an attitude to innovate your organization can spend unlimited budgets on innovations but won't succeed on the long run.
It's all about innovators, not innovations!
Contact GERMANY
Ina Rabouw
+49 160 906 84 517
Ina@studiowhy.nl
Contact South America
Mariëtte Huizinga
+31 6 109 24 855
Mariëtte@studiowhy.nl
Contact Rest of the world
Benjo van den Boogaard
+31 6 456 40 770
benjo@studiowhy.com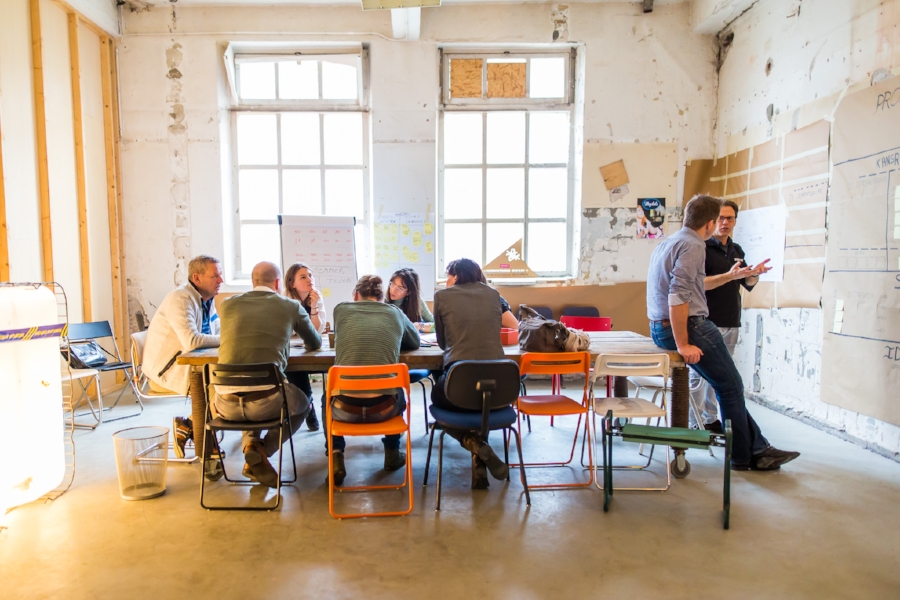 Culture of Innovation Excellence
It's all about an entrepreneurial mindset!
Our Dutch design.school offers training programs in Dutch design.thinking. Become a more innovative organization by developing innovational & entrepreneurial mindsets and competencies. The Dutch design.thinking mindset, process, tools and techniques empower your organization to collaboratively recognize & value market opportunities and inspire and activate people to accomplish this value with sustainable impact!
Find out how our in-company innovation expeditions, our management development programs and our training & workshops offer disruptive opportunities to change your corporate culture and at the same time generate new products & services for your ongoing business.
Or hire one of our trainee teams of young innovative entrepreneurs and make them kickstart your change.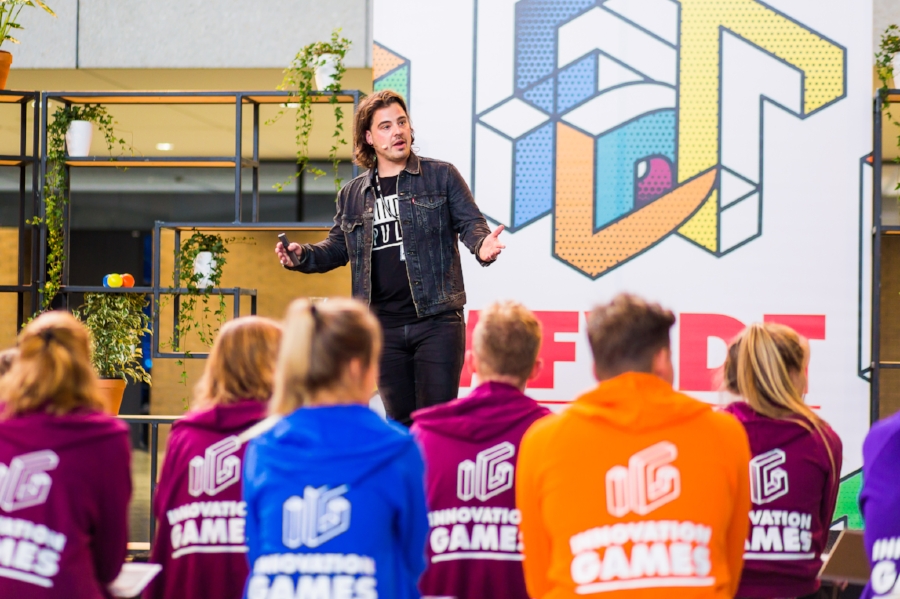 Experience is key for awareness and activation. That's why experience is key to all our events. Whether it is a part of a day or fourteen days at a stretch, we guide groups of 10 up to 10,000 people into a deep dive in innovation and entrepreneurship. Based on the steps of our serious game participants feel what Dutch Design Thinking means and how it impacts the way they work. A memory with lasting impact.
We believe in action learning, gamification, multidisciplinary teams and a mix of short masterclasses and coaching on the job.
IN BRIEF
events of 3 hours up to 2 weeks

experience is key

gamification or a real life challenge

worldwide, 10 to 10,000 participants
Contact EVENTS
Bas Antonis
+31 6 405 10 197
bas@studiowhy.com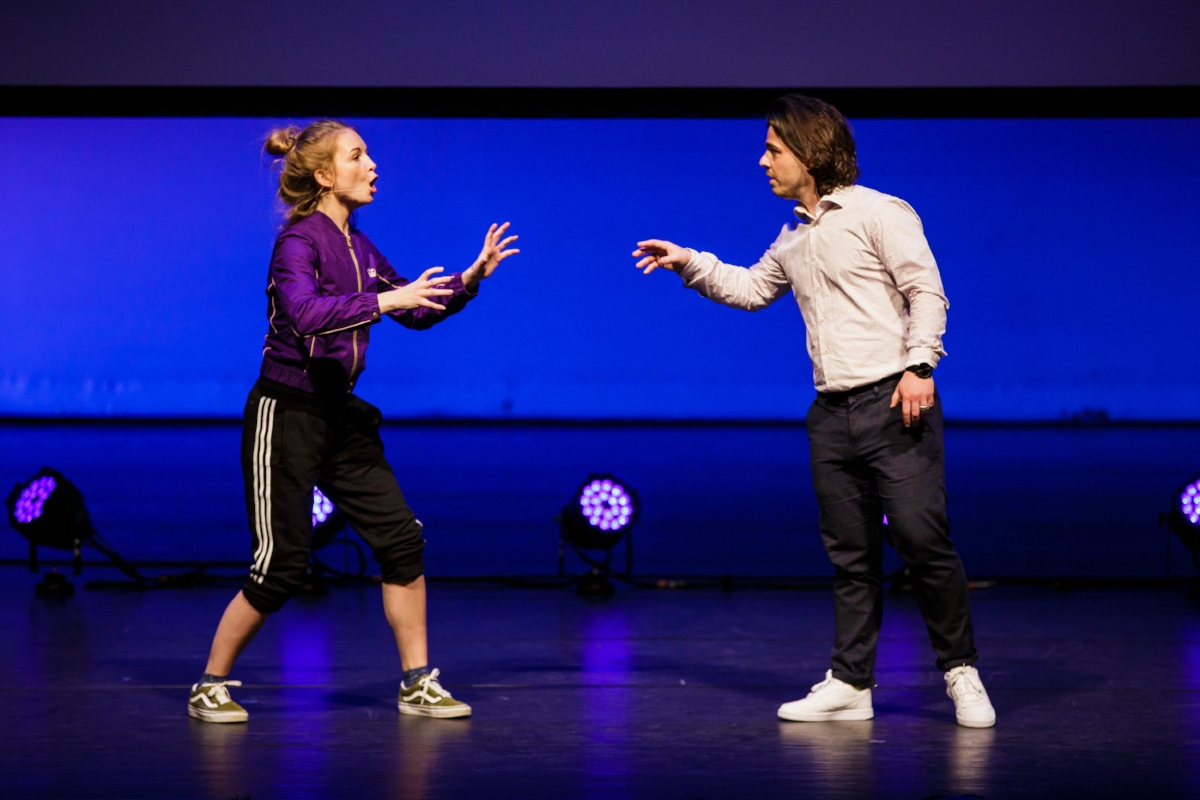 At STUDIO.WHY we receive quite some requests to perform on stages across the globe. We are good at keynotes about the culture of innovation, working with millennials, how to set up corporate innovation and why startups fail".
Our trainee team to kickstart your change?
Benefit from our graduates
The graduates of the Dutch design.school are professional business designers. Multidisciplinary teams of designers at STUDIO.WHY create market insights, leading offerings and new businesses for your organization.
What will we do?
Our multidisciplinary teams work on your cases, either fulltime or parttime.

A design sprint usually takes 4 weeks up to 6 months.

Our teams work with the Dutch Design Deltas.

Our teams help clients to identify and develop new growth options within existing brands.

Design new business models that enhance and extend consumer experiences while creating new opportunities for income.

Design new products, services, and consumer experiences that differentiate the company from its competition.

Create compelling new value propositions for customers.

(Re)design organizational structures, strategic assets, and operating models to help the company drive its own innovation.

Design new ventures that creates new income potential for the business.
Examples of design sprints
For a catering service we designed the concept of a new school restaurant, compliant to the wishes of the students as well as the catering service.
For a watership we designed a concept that tells the story and history of the waterschip. Also we designed several concepts using brown data, obtained by measuring the sewer system, to deliver awareness to young adults about healthy living.
For an office automation company we created insights about the way business travelers want to collect and duplicate information while being on the road.
Contact TRAINEETEAMS
Marcella van Eijndhoven
+31 6 405 10 197
marcella@studiowhy.nl
Are you in need of new insights, new ways to serve the market? STUDIO.WHY offers trained teams to execute design sprints for you. After completing the Dutch design.school our young minds design and execute your the design thinking projects.
INNOVATION TRAINING & COACHING
The route to innovation is with obstacles and pitfalls
Mindset rules!
Our Innovation Expedition is designed to ignite teams with the Dutch desing.thinking mindset and skills, in order to enable them to autonomous achieve innovation in their organization.
The Innovation Expedition is all about doing. During 20 weeks time an innovation team of 6 employees spend one day a week to practice their skills on a real-life challenge. Along the way, the team will get trained, coached and facilitated by experienced Dutch design.thinking trainers. Three-weekly there will be a meet and greet with our coaches in order to reflect on progress and struggles.

We are proud to works for these organizations: